Warning
: Illegal string offset 'keywords_time' in
/home2/alnvern/public_html/naturalhealthrenegades.com/wp-content/plugins/internal-link-building-marios/internal-link-building-marios.php
on line
105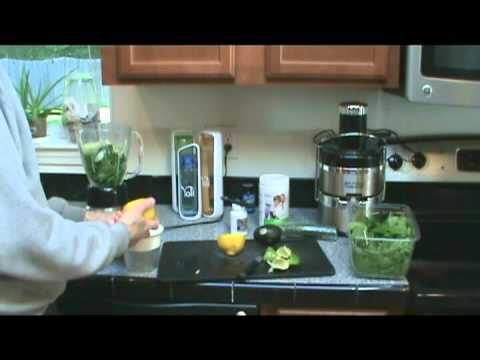 The Alkaline Shake
The image doesn't do it justice. This shake is really green, neon green… almost florescent!!! I should have turned the lights off to see if it glowed!
All kidding aside, for the last couple of months, I've been studying up on the critical role that pH balance plays within the body. I'm so excited about this alkaline shake, that I set aside my other plans until I finish writing this post.

Like I said, I'm reading several books on pH balance: Alkalize or Die, by Dr. Theodore A. Baroody, The Battle For Health Is Over pH, by Gary Tunsky and The pH Miracle for Weight Loss by Dr. Robert O. Young and his wife Shelley, to name a few. The last book by the Youngs comes with a few bonuses. One of them is a complimentary copy of Shelley Young's article, "So What Can I Eat?". In it, she explains why the avocado is the closest thing to a perfect food. She then gives the ingredients of the pictured shake… what I've dubbed, "The Green sLime Shake". Now I'm sure I could have looked up the exact quantities on the Young's website or in one of their pH Miracle books that I bought recently, but no, I was too impatient… I just wanted to try it.
So, the ingredients are: cucumber, spinach, avocado, soy sprouts, lime, mint, stevia and ice cubes. I couldn't find any soy sprouts at the store earlier, so I just left them out. Into the blender went about 4 ice cubes, 1/2 an English cucumber, a handful of spinach, a whole avocado (minus the pit and skin, of course), 1/2 a peeled lime, and one mint leaf. It didn't really mix in the blender, so I added some water (stop laughing, I'm a novice in the kitchen, ok?). I'm guessing I ended up with about a cup of water altogether. I tried a sip and said, "oh, that isn't too bad." I offered a taste to my wife and she wrinkled up her face and said it needed more mint and stevia… "mmm, stevia?… there's supposed to be stevia in it?", I replied. I had read the ingredients to her several hours before… let's just say her memory is better than mine.
So, I added some more mint, a few drops of liquid stevia and a bit more water into the blender and voila` – a delicious and very filling shake. This shake was really tasty, I mean it! Not only that, it's been four hours since I drank it and I'm not hungry, thanks to the good fats in the avocado. Now, if you're already a super healthy alkaline-aware person, then you're probably laughing at my discovery today. But my guess is that most people don't make a habit of drinking 100% natural, neon-green, super-alkalizing "sLime" shakes! Try it, you'll like it and be way healthier for it!
Give it a try and leave a comment to let me know how you liked it and what variations you come up with. Here's to your health!
If you're not familiar with the importance of maintaining an alkaline body pH level, then download the FREE 8-page report, "Acidity – The Silent Killer!" by entering your name and email in the right sidebar. It is jam packed with pH-related information from leading scientists, doctors and authors. Why does pH balance matter? What is the ideal body pH level? What are the symptoms of an acidic condition? What are the benefits of becoming alkaline? How do I become alkaline? All these questions and more are answered in this report. Download your copy now!
——————————————————————
Update on 1/17/11:
Since discovering this shake, I have modified it a bit as follows:
1 cup of filtered water
1 whole avocado
1 handful of baby spinach
1/3 to 1/2 an English cucumber
1 whole peeled lime
Juice from 1 or 2 freshly squeezed lemons
1 teaspoon of organic greens powder
0 to 2 ice cubes (when in a hurry, I skip the ice cubes, so I can gulp it down a bit faster)
Stevia to taste (1/4 to 1/2 teaspoon or 1 to 2 dropper squirts of the liquid)
I'll add the sprouts soon, but I'm growing my own, so it'll be a few more days.
(My wife likes to add a couple spoonfuls of coconut milk to make it creamier)
Blend well, very well. I use a standard blender on high speed for about a minute. One of these days I'll break down and fork over the dough for a Vitamix.
The elimination of the mint, adding the fresh lemon juice and using a whole lime has made it even better. I really look forward to my Green sLime Alkaline Shake every morning now!
Happy eating and stay alkaline!
Alan
Like this post? Subscribe to my RSS feed and get loads more!